A tag cloud is a great way of letting new readers know at a glance what your blog is about. Movable Type ships with a standard tag cloud widget you can easily add to the sidebar of any blog on your installation. Once you start tagging entries, links to the search results page for each tag will automatically be added to all your entries. The tag cloud widget will display the most used tags.
It doesn't matter much for search engines which tag is the biggest, since the links in the sidebar widget are constructed using JavaScript which most crawlers don't "see" when they are indexing your site anyway (they do see the tag links below your entries though). But for human visitors, it is always nice to have an at-a-glance overview of what your blog is about.
However, you (or your authors) may not always spell a tag in the same way. This could lead to a distortion in the counts, making a tag smaller than it should be (or even 'hiding it from sight' if it drops out of the top 20).
Fortunately, there is a way to fix this: go to the 'Entries > Tags' screen in MT 5 (MT 4 has a similar screen under 'Manage > Tags') and you will see a list of all tags on your blog, along with the number of entries that use this tag: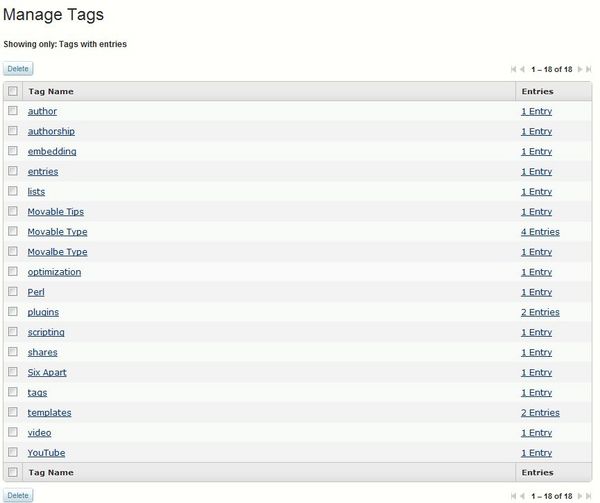 As you seen, there is one entry with 'Movalbe Type' instead of 'Movable Type'. Clicking the 'bad' tag will bring up this dialog:

Simply correct the spelling and hit the 'Rename' button. And look:

The stats for the other tag are updated, now reflecting correctly that there are 5 entries using this tag. After republication this will also show up in your tag cloud. In this particular case there won't be a big change, since the biggest tag will remain the biggest tag, but it can make quite a difference in cases where a relatively frequent tag is misspelled in 50% of the cases.
Tweet