Way back in the mists of time,
Six Apart
launched
TypePad
, something many described as an on-line version of their self-hosted software
Movable Type
meant for less technical users (or simply for those who didn't want to bother with technical stuff and just blog). Compare it to Wordpress.com vs. Wordpress.org, if you will. TypePad expanded rapidly and became a very large and succesfull premium blogging service, which it still is today. Even though it evolved over the years, you can still see some Movable Type heritage in it here and there.
One of the most glaring similarities is
TypePad's templating language
. Most TypePad users either select a predefined theme or use the built-in theme builder to create one, but for advanced users it is still possible to directly edit the underlying templates using TypePad templating tags. These are very similar to the
tags used by Movable Type
, and many snippets of templating code can be lifted from TypePad and used on Movable Type with little or no modification at all.
Tag syntax
The reverse is a bit more difficult: typically Movable Type tags start with the letters MT and there can be an optional $ sign before > and after < (just like TypePad tags). So <MTEntries> or <$MTBlogName$> would work in both systems. But Movable Type's tags are case insensitive and allow an optional comma after the 'MT'. So while <mt:entries> or <mtentries> would work in Movable Type, TypePad would reject these. Still, easy enough to overcome with a bit of editing.
Tag atrributes
Both templating languages also allow various attributes to be used with their tags. Many are exactly the same or serve the same function: encode_html, encode_js, dirify, remove_html... But
Movable Type definitely has the larger list
, including such useful ones as encode_php, regex_replace or even count_characters. Many Movable Type tags also have attributes like blog_ids, exclude_blogs, include_blogs etc. which make it possible to include/exclude content from other blogs on the system, something which
TypePad tag attributes
do not support.
Variable support
One of the most powerful features in Movable Type's templating language, support for variables, is completely missing in TypePad. Variables make it very easy to capture the output of some template tag(s) which can then (optionally) be modified and displayed elsewhere on the page or be used to conditionally display certain parts of the template. To do something similar in TypePad typically involves storing content into javascript variables and then manipulating/displaying them elsewhere or using them in logical operations.
Allowable archive mappings
Another big difference is that Movable Type allows you to set up multiple archive templates of the same type: you could set up multiple individual entry templates for example, one for the regular readers, a mobile version, an RSS version with the comments... Under TypePad you are stricly limited to individual, category and date-based archives (and you have to pick one type of date-based: weekly, monthly, yearly...). Author archives are only possible in Movable Type.
Compare the parts of the interface listing the possible archive templates: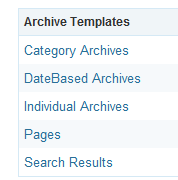 Typepad

Movable Type
Image support
Various
TypePad's
<MTEntries>
tag used on index pages is hardcoded to only show entries from the past 30 days, for performance reasons. TypePad has a number of features Movable Type doesn't have or implements differently (TypeLists, Reblogging, extended user profiles) so naturally Movable Type lacks the template tags associated with them or does them differently.
Conclusions
While there definitely are similarities caused by sharing a common ancestor, Movable Type's templating language has evolved and grown considerably more than TypePad's over time.
Any reasonably competent MT designer aware of the differences should have relatively little trouble adapting to TypePad templating.
TypePad designers will probably discover many new features if they step into the world of Movable Type templating.
Mgrating a template set away from TypePad to Movable Type is probably easier than the other way round.
Anything else?
Tweet