So you found this really cool video on YouTube about "Traditional Movable Type Printing in China" and you want to embed it in an entry on your Movable Type powered blog to talk about the origin of the name of the software. So you fire up Movable Type's text editor and paste in the embed code YouTube provided for you. And you end up with this:
<object width="480" height="385"><param name="movie" value="http://www.youtube.com/v/1UpwOtb7yh0&hl=nl_NL&fs=1&"></param><param name="allowFullScreen" value="true"></param><param name="allowscriptaccess" value="always"></param><embed src="http://www.youtube.com/v/1UpwOtb7yh0&hl=nl_NL&fs=1&" type="application/x-shockwave-flash" allowscriptaccess="always" allowfullscreen="true" width="480" height="385"></embed></object>
Doesn't look like a movie, does it? And if you publish this, you will get to see this in the published entry:

How to fix it
Movable Type's entry editing screen has two modes: WYSIWYG mode and HTML mode. The first mode ('What You See Is What You Get) is just that: you get what you see, in this case a bunch of codes. The second mode allows you to directly add HTML codes to your text that will affect the way it will look in the published version. Normally, you only need the second mode if you are some kind of internet geek who wants to do special stuff, or if you are a regular person who wants to embed some code from another site.

The editor has two buttons that allow you to switch between modes. The right one is the HTML mode button, and if you click it and *then* copy paste in your YouTube embed code, things will work out nicely in the published version of your post. Note: you can even switch between the two modes multiple times during post composition, allowing you to preview the video directly in the WYSIWYG editor: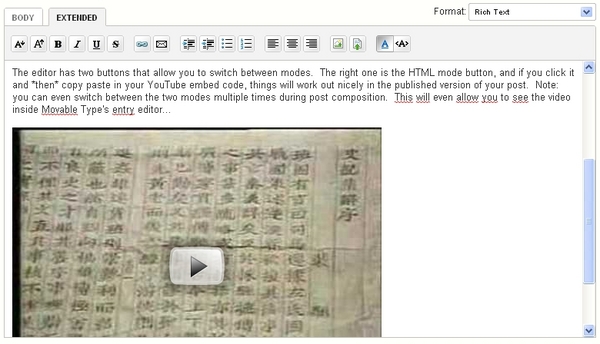 And after publication it looks like this:
And there you have the end result: a video about Movable Type printing, published on a Movable Type blog...
Tweet