Are you using Memcached in combination with Movable Type, and are you using the caching options on one or more of your module or widget templates? Then have a look at these bug reports (
106215
,
106287
), as they might affect the performance of your installation quite negatively.
Short summary:
if you are using memcached with your Movable Type installation and you configure one or more modules or widgets to make use of caching, no caching actually happens because of a bug in the code. This bug is present both in Movable Type 4.361 and Movable Type 5.11. Note that if you are not using memcached, Movable Type will fall back to storing cache data in the database directly and this mechanism is not affected by the bug.
Fortunately, the fix is quite simple: in the file
lib/MT/Template/ContextHandlers.pm
look for following line
$cache_driver->replace( $cache_key, Encode::encode( $enc, $ret ),
and replace it with
$cache_driver->set( $cache_key, Encode::encode( $enc, $ret ),
On a Movable Type 5 installation, this is all you need to do. Six Apart is aware of the bug and the fix will probably be in one of the next releases, so if you don't feel comfortable editing source coude just wait for one of the next releases. A fix has been applied to Melody as well, which will be out shortly.
Note that on Movable Type 4 a second bug is present which will prevent memcached from being used when including cached modules/widgets in some cases, even when the fix above is applied. Movable Type 4 uses the name of the included module or widget in the cache key used to store the data in memcached. But such keys cannot contain spaces, so if the module/widget has a space in the name, caching will also fail. You can work around this bug by renaming the widgets/modules that use caching, making sure their names don't have spaces in them anymore. Don't forget to also change the names in the <mt:include> tags used to include them in other templates.
How to verify this bug is present on your own installation:
On a Movable Type installation configured to use memcached, create a template module called 'Test'. Put a single <mt:date> tag in it. Configure the module to be cached for half an hour (or longer).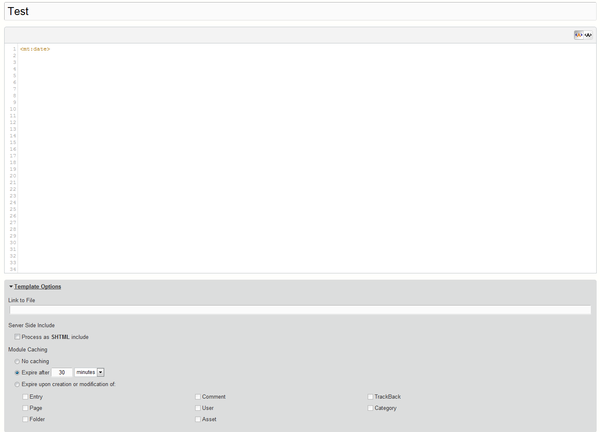 Next, create an index template that includes this 'Test' module and preview it. The result should be the current date and time.
Wait for a few minutes, and preview the template again. What should happen is that you get the same date/time as before but instead you get the current date and time, proving the module wasn't cached.
Now disable memcached by commenting out the lines about it in your mt-config.cgi file, and repeat the steps above. You will notice that you will now keep getting the same date and time when you preview the template a few minutes apart.
So what are your options?
If the bug affects you and you need a solution:

Apply the fix (and make sure cached modules/widgets have names without spaces in them if you are on MT4) : this will get rid of the bug.
If not comfortable with editing source code, disabling memcached works too. This may make rebuilding faster if you are using a lot of cached modules, but it will be at the cost of making the backend interface of MT, searching and/or commenting slower.

If the bug doesn't affect you or you don't care:

Simply wait for the fix to turn up in a next release of Movable Type/Melody
Tweet