A few days ago
Endevver
announced a new plugin to the Movable Type community:
Template Optimizer
. I just installed and tested it, and it looks impressive. The plugin scans all templates of one or more blogs on your Movable Type installation and offers a number of suggestions to improve efficiency and speed of publication.
Not only that, but it even offers a two-click way to automatically apply all the generated recommendations. A big timesaver...
As I
wrote
before
, Movable Type's standard templates are not optimized much and can use quite some improvement right out of the box. So to test this plugin I applied the default 'Classic Blog' template set to my test blog and then ran this plugin on it:

After hitting the 'Go' button, the plugin returned following recommendations: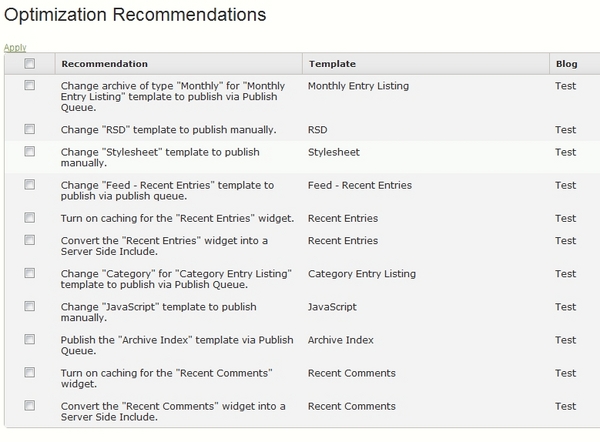 All of this is good advice, basically. More or less the same advice (and the reasons behind it) that I posted in these two articles:
The great thing about this plugin is that it allows you to do all this in basically a few clicks. Definitely recommended!
Tweet