The built-in TypePad Antispam plugin has been stopping 99% of all spam on this blog for a while now, but I have the impression the total amount has been going up and up, making the remaining 1% all the more annoying. That is why I recently installed a relatively old (but compatible with MT 5) plugin from
Jay Allen
:
Comment Challenge
.
This plugin allows you to add an (optional) question to the comments form that commenters need to answer correctly if they want their comment to be accepted. The question can be chosen by the blog owner and if it is sufficiently difficult for a script to guess the answer but easy for humans it can block a lot of automated spam.
The plugin can also add a hidden beacon to your comment forms and allows you to reject comments that lack this beacon, as a way to block spam from bots pretending to be real commenters.
I must say this plugin has made a great deal of difference already on this blog, even though it has only been installed for just half a day. Usually I get a handfull of spam comments per day that bypass the filters, but so far today none of them have made it through. But a quick look at my activity log shows just how much the plugin is stopping: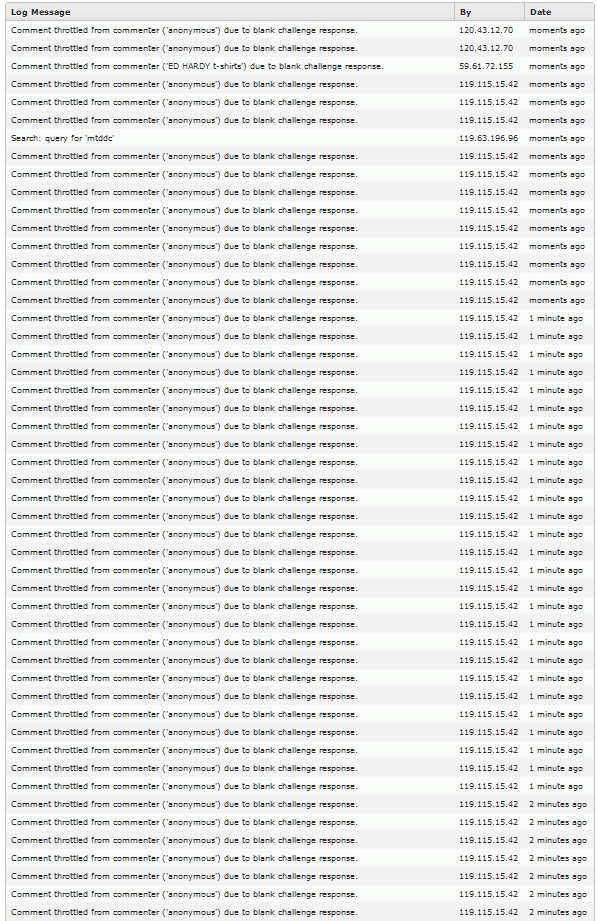 Tip: to use the plugin you need to add the template tag <mt:commentchallenge> to your blog's comment form. Upon publication this tag then generates the code to display the chosen security question. With most default Movable Type blogs this means you have to republish all entries if you change the question.
However, you can also create a new index template (named 'Comment Challenge', for example) and put in just the <mt:commentchallenge> tag, then publish this template to a file. If you now use a server side include (apache, php...) in all comment forms to include this file, you only need to update this single file whenever you change the security question.
Example: my Comment Challenge index template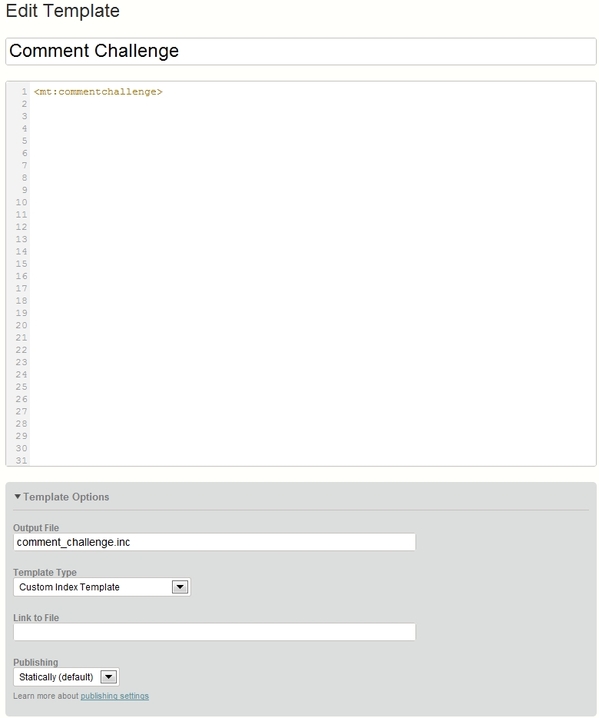 My comment form module (in my individual entry template) has this code in it:
<
div
id
=
"comments-open-text"
>
<
label
for
=
"comment-text"
>
Comments
<mt:IfAllowCommentHTML>
(You may use HTML tags for style)
<
/mt:IfAllowCommentHTML></
label
>
<
textarea
id
=
"comment-text"
name
=
"text"
rows
=
"15"
cols
=
"50"
onfocus
=
"mtCommentFormOnFocus()"
>
</
textarea
>
</
div
>
<!--#include virtual="<mt:blogrelativeurl>comment_challenge.inc"-->
Now whenever I feel like changing the question, all I need to do is change it in the plugin settings and republish the 'Comment Challenge' index template. Easy as pie!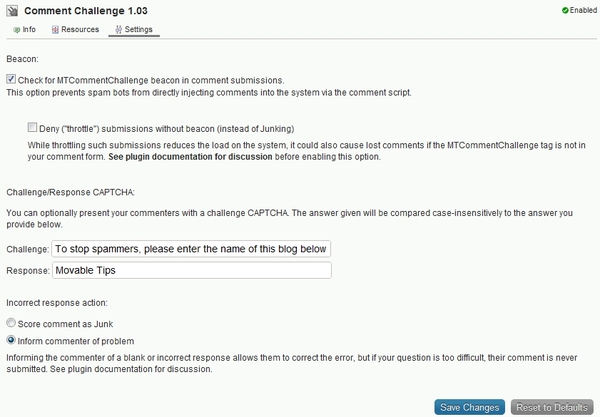 Tweet