Ok, a bit later than I had hoped, but here is a quick report about my recent trip to New York for the Movable Type Idea Exchange...
First things first: if you want to watch the video I took of the speakers during the event, go here: http://www.ustream.tv/channel/movabletips-tv. I recorded and streamed the entire thing using an Android tablet propped up against a box, so the quality isn't 100% but you can clearly understand the speakers.  Also, the stream cut out every ten to fifteen minutes so the recordings are broken down into many smaller chunks. My own presentation (about localizing Movable Type) starts about a minute or two into this video: http://www.ustream.tv/recorded/26244097.  You can also download a pdf of my slides.
So, how did the trip go?
Getting to NY was a bit of a challenge: I was supposed to go to Brussels, check in at the Air France counter at the station and then take a high speed train to Paris from where I would fly to New York. Â But my train to Brussels was delayed due to a suicide on the tracks (causing a full-scale train evacuation) and despite their assurances over the phone that they would just put me on the next flight the woman at the Air France counter in Brussels made me buy a new ticket at tripple the price of my original one.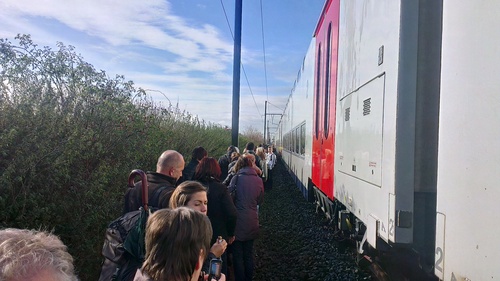 Fortunately, this was the only bad thing that happened on the entire trip.
I arrived on monday evening, did a little work and went to bed. Â Tuesday was spent shopping for books and getting a temporary T-Mobile sim card so I could internet on the go without paying Air France-like amounts of money for it in roaming charges. Â In the evening I had dinner with Robert Minton, the recently hired VP of Sales and Marketing of Six Apart. Â Of course we talked MT, and I must say I'm pretty impressed by Robert's go-getter attitude and blunt honesty. Â This guy seems to be all about getting whatever it takes done, fast, with little tolerance for foot-dragging or sugarcoating. Â 
After meeting him I'm pretty sure he will succeed in get the word out that Movable Type is far from dead and that it is still a stable, secure and proven platform under active development. Â But if you are reading this blog, you probably already knew that.
Later that evening it was time for a little fun: I went to a Reddit meetup to watch the presidential debate, which was quite enjoyable.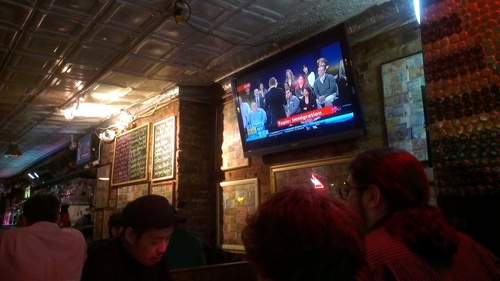 The day after there was (of course) more work, and a lunch with Dan Wolfgang (of uiNNOVATIONS), Dave Aiello (of After6 Services), Yuji Takayama and Takeshi Osanai (both of Six Apart), at a very nice Belgian restaurant down the street from my hotel. Â This is also where I first met Six Apart Japan's mascot in person: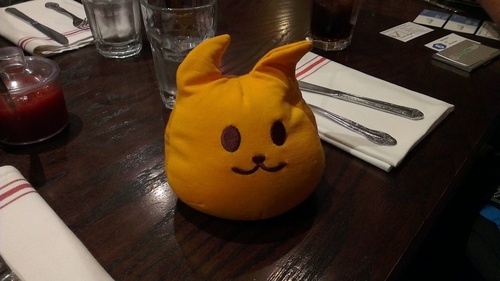 In the evening Dan, Dave and myself took a long walk and ended up at some Irish pub for burgers and beer. Â Of course the topic of conversation was Movable Type and how the various users, developers and community members should band together more to help get the word out and support the platform.
Thursday was the big day of the conference itself.  We got to see some impressive demonstrations from GENOVA and Alfasado, two of the Japanese partners of Six Apart who showed off what they were doing with MT.  I also gave my talk about localizing MT and of course there was more discussion about the future of MT.  As part of the renewed focus from Six Apart on the rest of the world outside Japan, 40 new plugins were announced.  As I already mentioned, I streamed the whole thing using my tablet: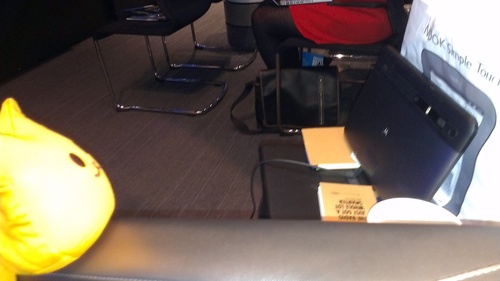 It was also great fun to see some of my ex-colleagues from Six Apart again, most notably Jay Allen and Anil Dash: last time I saw them in person must have been years ago. Â 
In the evening there were drinks at another pub, where I had a good chat with Nobuhiro Seki, CEO of Six Apart. Â If all goes well, we'll see him in Europe someday...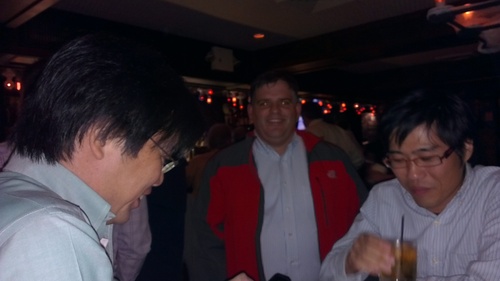 Friday was quite rainy, unfortunately. Â I packed my bags, did some more work then left all my stuff at the hotel to get one more lunch in with Dan at a Thai place before he had to get on a train back home. Â I spent the rest of my afternoon shopping for souvenirs in Times Square (got some really fun Angry Birds toys for my daughters) and the area around it.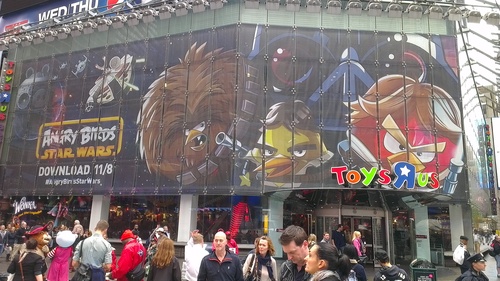 My trip back was fairly uneventful compared to coming in, which was a nice change.
For me, this event was mostly about Six Apart showing they are serious about wanting to re-engage the MT community outside Japan, which is something I appreciate greatly. Â It was an energizing experience to be in a room with so many people who cared about Movable Type, and I definitely had the impression many people walked away from the event with fresh plans and new ideas for future projects. Â (Can't wait to see that "Pirate Speak" localization of Movable Type, for one thing...)
Kudos to Robert for organising this!
Tweet