It was a day with typical rainy London weather as I arrived at the restaurant where we had arranged to meet. I quickly spotted
Adam Tinworth
and
Matt Carey
near the entrance, and a short while later
Anu Gupta
joined us. We sat down at a table and did what all MT users do when they have some time to spare...
... we kvetched like old wives about all the real and imagined past mistakes Six Apart has made :-) Generally the feeling was that there was an aura of 'legacyness' around MT and that the lack of activity on the official websites was not projecting a good image right now, especially with the acquisition.
At this point, Jun entered the restaurant. He apologized for being late: he had been waiting for us at another restaurant of the same chain before realizing his mistake.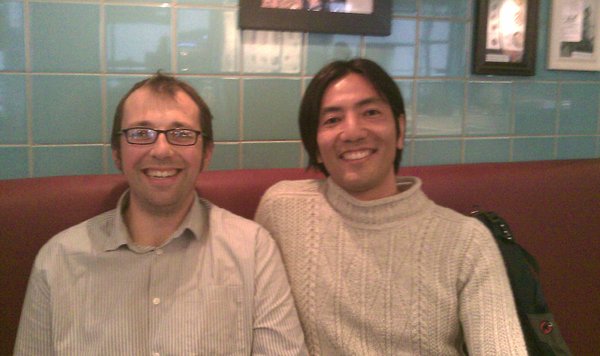 Matt and Jun

The next hours went by in a flash, as Jun talked and talked about the past and future of Movable Type. Let me try and reconstruct from my notes what was said, even though I'm probably missing some bits.
He started out with a little bit of history and the fact that most of the development on MT has been done in Japan for over a year now. The decision to move it there was a logical one, since the ecosystem around Movable Type in Japan is quite unique and different from the rest of the world.
MT license sales make up a substantial part of the revenue for Six Apart KK ('KK' is the Japanese equivalent of 'Ltd', by the way). Not only are there direct sales, but affiliate/partnership sales as well. Hundreds of integrators offer MT to their clients, and several partners offer enterprise-grade applications built on top of MT, along with dozens of smaller applications from yet other partners.
Besides this 'commercial' community there are also many 'hobby' users and developers using the software and contributing to the community. No less than six books about MT 5 alone were currently in print.
Unfortunately, due to the language barrier, preciously little of all of this has made it into the wider world, even though efforts are underway to make more of it happen.
With respect to the acquisition of Six Apart and the new SAY Media company, we learned that Six Apart KK used to be a 100% owned subsidiary of Six Apart and will remain the same under SAY Media. The difference is that now all MT related activity in the entire world will be driven and managed from Japan, which sure sounded like a good thing: MT is still in the hands of people who care!
Movable Type development and support will continue, and the revenue from the Japanese ecosystem is definitely big enough to support it. So any rumors about the death of MT have again been proven too hasty.
The current team in Japan has three developers, one designer, three QA engineers and three sales engineers. And they have plans to hire more.
This new clarity of who is responsible for all things MT will probably be a good thing for the English-speaking MT community too. Before, Six Apart KK was mostly responsible for the Japanese community only, relying on the rest of the company to deal with community aspects in their own regions. Throw in a few language barriers and a different focus, and it is not hard to see why not much seemed to be happening outside of Japan.
Jun showed a genuine desire to re-energize the community outside of Japan, and many good suggestions were made around the table about how to do that. Better documentation, a more active website, more support for people willing to learn about the platform, a clearer licensing structure... A lot of these things are on the table and I have a feeling they will be worked on soon.
Some other small tidbits:
MT 5.1 beta is planned early this winter
Another MT 4.x maintenance release is coming soon
There is active talk with the Melody people about collaborating and sharing code/features
The distinction between the MTOS and Pro versions of MT will probably remain in existence so as not to threaten the revenue stream from licensing that is paying for much of the development
If any of the other participants want to add their recollections below, feel free to use the comment form! I'm heading to bed now...
Tweet