When creating a blog in Movable Type, you get the option of picking a timezone for it. This is used in combination with the date/time on your server to put the date and time on your entries. Basically this is done by taking the (UTC) server time and adding the timezone offset to it.
For example, right now it is 11.54 UTC and this blog is set to Central European Time (CET) so when I created this entry it got the time 12.54.


However, when I look at the clock in my office it is 13.56! What is going on?
Basically, Movable Type is ignoring the fact that
Daylight Saving Time
is in effect in the Central European Time timezone right now. Instead of UTC+1, it is actually
UTC+2 here
.
If you are experiencing the same issue, you can remedy the matter by switching your blog's timezone under Settings > General. Just pretend you are temporarily in a different timezone, one that does have the right offset compared to UTC...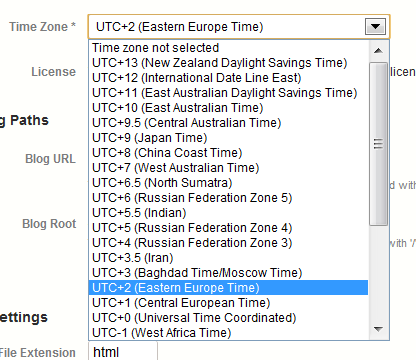 Movable Tips is on Eastern Europe Time... for now.
Tweet