When creating a site with Movable Type, you might have seen the error above, or a variation. The full text usually reads something like:
"
An error occurred publishing date-based archive 'Monthly20100301000000': Publish error in template 'Monthly Entry Listing': Error in <mtLink> tag: Can't find template 'archive_index'". (or 'styles', or 'javascript', or 'feed_recent'...) So what to do when you get this message?
What causes this?
Despite the scary-sounding error message, this problem is actually quite simple: in one of your templates there is an
<mt:link>
tag. This tag is used to generate a link to the output of a template, based on the name or the identifier of a template. And in this particular case, the identifier 'archive_index' doesn't seem to refer to any of your blog's templates.
Each index template can have an identifier. You can see what it is by going to the template editing screen of an index template and clicking 'Template Options' at the bottom of the screen.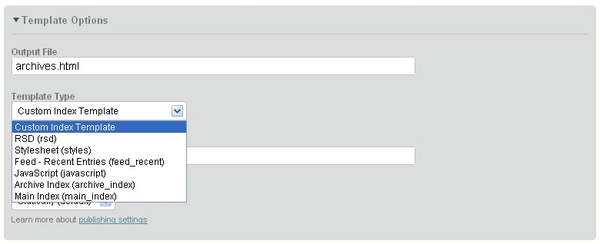 As you see, there is a dropdown menu item labeled 'Template Type'. This actually determines the identifier for most templates. The part between brackets is the identifier you can use with an <mt:link> tag.
How to fix the problem
Basically there are two options:
Remove the <mt:link> tag from any template that is giving you trouble. You might have had a legitimate reason to delete the template with the missing identifier, or a reason to change the identifier. If no more <mt:link> tags point to this identifier, the problem goes away.
Make sure there actually is a template that has its template type set to this missing identifier. Perhaps you changed the identifier by accident, or perhaps you deleted the template in question. Simply create a new template with the same identifier or fix the setting for the template where you changed it.
Where does this problem usually happen
Most often you'll see this issue with stylesheets, archive indexes or RSS feeds, as these index templates tend to be removed sometimes for various reasons and other templates still might refer to them in headers, footers etc.
Tweet